St Ives Cornwall
St Ives in West Cornwall, is a magnificent coastal Holiday resort famed for its safe beaches, the azure blue sea of the bay, its tiny cobbled streets and hidden corners waiting to be explored.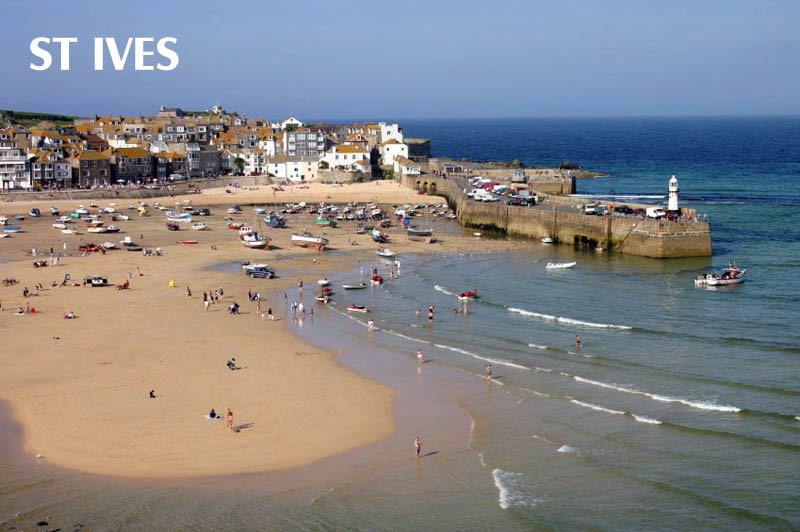 St Ives is a world famous art centre attracting artists because of the good natural light and is dotted with art galleries and studios, including the Tate Gallery, the Barbara Hepworth Museum at the Trewyn Studio and garden which were her former home.
Holiday Cottage rental in St Ives will appeal to all people who are looking for that special holiday destination with the perfect balance of sun, sea and sand.
Life in St Ives revolves around the harbour and the fishing trade helped it grow to prosperity. Much of that atmosphere is retained in the narrow alleyways and cottages of Downalong area. The small harbour, which dries at low tide, creating a beach, is the hub of activity in the town. The quay lined with numerous harbourside cafes, restaurants and shops selling art work and holiday souvenirs.
St Ives is famous for the narrow, cobbled streets decorated with clusters of brightly coloured flower displays, that beckon you to explore and wander through them - to discover their hidden delights and small hidden corners. The "Downalong" is the oldest part of St Ives, a maze of fishermens cottages and narrow streets. It was originally built of a sandbank that linked "The Island" to the Cornish Mainland.
St Ives features a small grassy peninsula that separates the main harbour from Porthmeor beach. Known as "The Island", it was an Iron Age Promontory Hill Fort- set on a raised area of headland with panoramic views of across the bay towards Hayle and along the coast toward Newquay. The Island is a popular place to sit and relax and of course to enjoy the stunning views.
Enjoy walks around St Ives with its Mediterranean atmosphere or follow the coastal footpath around "The Island" with its chapel up on the hill and across Porthmeor out to Clodgy Point, or stroll towards Carbis Bay across the wooded hillside.

Carbis Bay
Famed for its excellent, wide, sandy and sheltered beach this is an increasingly popular holiday area, with fine hotels and camping sites. There is a memorable panoramic view from Hayle to St Ives along the branch line trip from Lelant and the coastal path here is a joy to walk.